Before arriving in Albania, I asked myself a thousand questions about this country. What does it look like? How will we be welcomed? Are the roads in good condition for our motorhome? What about the quality of the wines? So many questions fueled my desire to explore this enigmatic wine destination of the Balkans, wedged between Montenegro and Kosovo in the north, Macedonia in the east, and Greece in the south.
With its beautiful rugged mountains with snow-capped peaks, lush green countryside, picturesque beaches and vibrant cities, Albania is an open postcard to discover urgently. For wine lovers, its many autochthonous grape varieties, its vineyard of 10,000 hectares(1) and its multi-millennial wine tradition will delight the most curious.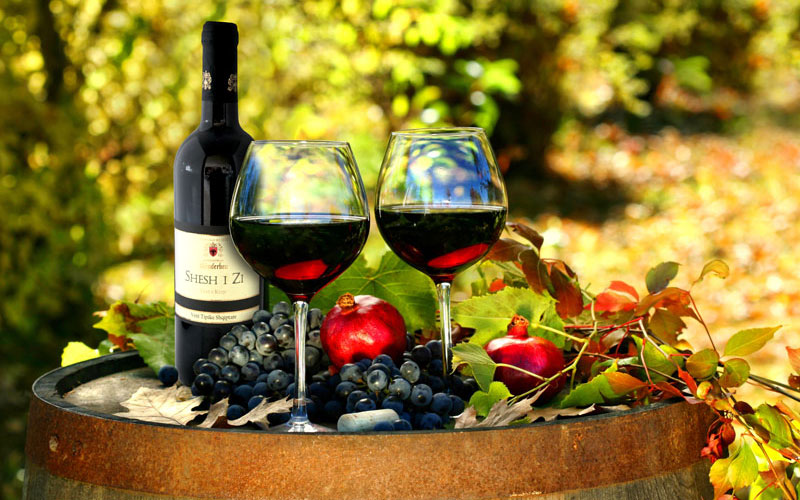 2800 YEARS OF VITICULTURE
Arriving in Albania from the north at nightfall, after a border check of more than two hours, we started to feel the fatigue in the camper. We decided to drive a few more kilometers and to stop after Shkodër, the main city of the region.
Suddenly, right in the city center, as we drove unhindered twice on two lanes separated by a median strip, a white horse rose out of nowhere, trotting against the direction of the road. By good reflex, we barely avoided the animal. The moment was surreal!
After all these emotions, we stopped for dinner and took the opportunity to learn more about the wine history of the country from the locals. Surprising. Viticulture developed in the 8th century BC on the basis of autochthonous grape varieties that had survived the ice age, making Albania one of the oldest wine-producing countries in Europe. During the 17th century, wine production slowed down under the Islam influence, due to the decline in the consumption of alcoholic beverages.
It was not until 1972, during Communist rule, that Albanian wine production reached its peak with 20,000 hectares. In the early 1990s, a research institute was set up and a privatization program for viticultural land was set up to modernize wine production, promote local grape varieties and establish a market economy. The beginning of a new era for the Albanian vineyard and the promise of beautiful discoveries.